Liquicity Festival 2023 takes place at the recreational park "Geestmerambacht", just 40km north of Amsterdam. A classic piece of Dutch landscape with grass fields, little creeks, dikes and woodland. There are multiple options of travel to Liquicity Festival, click the tab that suits you best below.
If you are not coming by car or bike, we strongly recommend to
purchase a shuttle bus return ticket (€11.99)
.
With this ticket you can take the Liquicity bus from Alkmaar Station to the festival (1x) and back (1x). The shuttle busses depart from the north side of Alkmaar Station as shown below. They will drive continuously throughout the day on all festival days. The schedule will be published before the festival starts.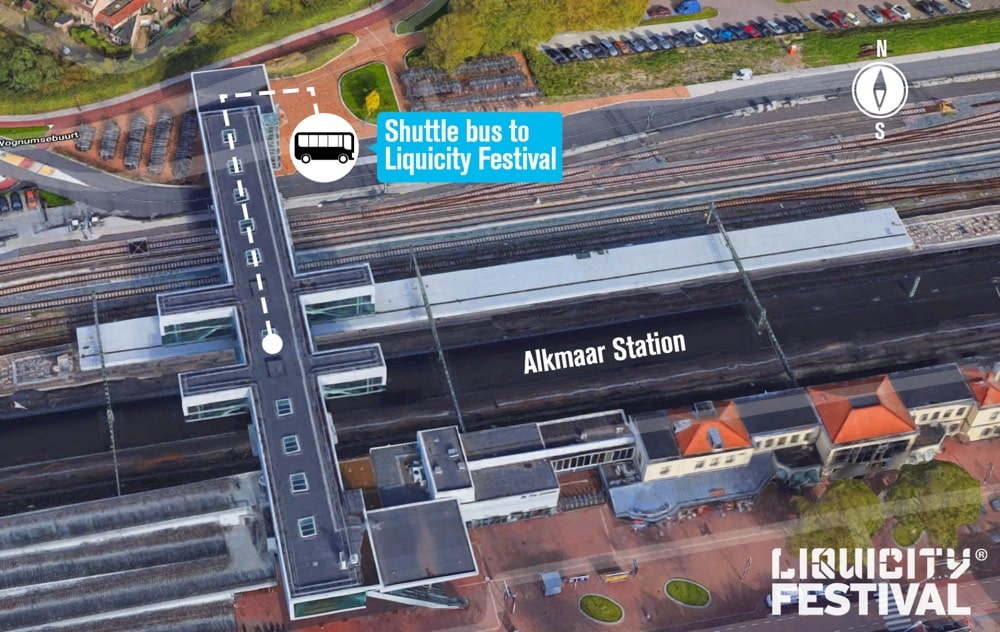 How to get from Schiphol Airport to Alkmaar Station
Take the train from Schiphol Airport to Zaandam station. Take the train from Zaandam station to Alkmaar station. (45 minutes in total)

How to get from Eindhoven Airport to Alkmaar Station
Take the bus from Eindhoven airport to Station Eindhoven. Take the train from Station Eindhoven to Alkmaar station. (120 minutes in total)

How to get from Amsterdam Central Station to Alkmaar Station
Take the train from Amsterdam central station to Alkmaar station. (35 minutes)
For all train timetables and routes to Alkmaar Station, check http://www.ns.nl/en/journeyplanner/.
Coming by car to Liquicity Festival 2023? Purchase a
parking ticket (€22.99)
to park your car at the festival from Friday until Monday!
If you prefer to arrive one day early, you can purchase the Thursday campsite access ticket (€16.99). With this ticket, you can park your car when you arrive on Thursday (but you still need a valid parking ticket).
Address: Festivalweg 1, Oudkarspel. Follow the signs towards the parking fields.
After scanning your parking ticket, you will be able to unload your luggage and friends in front of the entrance, before the parking stewards will point you to a parking area. Parking fields will be filled on a first-come-first-serve basis.
With a Campervan ticket (€99.99)  or Campervan ticket + power (€149.99), you'll get a spot of +/- 30m2 for 1 camper/caravan/tent trailer/car with roof tent. A maximum of 1 (front) tent may be added as long as there is space.
If you purchased a campervan + power ticket a 220v power point will be available within 25 meters. Make sure to bring your own power cable of +/- 25 meters.
The vehicle may only enter once! Driving out and coming back later is not possible. Arriving and departing is permitted during the opening hours of the campsite. The towing car of a caravan must be removed from the campsite immediately after the disconnection. The car can be parked with a parking ticket on the normal parking lot.
The same camping rules apply to all visitors with a vehicle as to visitors without one. A filled water tank is allowed (with water, which will be checked).
Please note: only campers, caravans and tent trailers that meet the requirements mentioned in the road traffic act and the vehicle regulations are permitted. Busses and cars are not allowed.
Is the vehicle longer than 8,5m? Send an email to [email protected] for the additional regulations and the registration form. Cars with roof tents are allowed if the tent can't be set up without the corresponding vehicle. It's therefore not allowed to place the roof tent on the ground and put the vehicle next to it.
Gas installations with separate removable gas cylinders in campers, caravans and/or tent trailers are not permitted due to fire regulations. Only gas installations with fixed non-removable built-in gas tanks are permitted.
For campers and APK-obligatory caravans with such fixed gas installations, a recently (max. 1 year old) APK inspection report must be shown. For caravans without APK inspection that do have such fixed gas installations, a recent (up to 2 years old) gas inspection G607 must be shown. Without one of these inspection documents, it is only allowed to carry small gas bottles (max. 190 grams) for single use.
Bike
Do you live nearby and do you want to come by bike? No problem, there are free bike parking spots available.
Carpool
Looking for someone to carpool with to the festival? Take a look at the Liquicity Festival 2023 Facebook group. This is the perfect place to find a travel buddy.