Liquicity Festival 2024 takes place at the recreational park "Geestmerambacht", just 40km north of Amsterdam. A classic piece of Dutch landscape with grass fields, little creeks, dikes and woodland. There are multiple options of travel to Liquicity Festival, click the tab that suits you best below.
If you are not coming by car or bike, we strongly recommend to purchase a shuttle bus return ticket (€10.99).
With this ticket you can take the Liquicity bus from Alkmaar Station to the festival (1x) and back (1x). The shuttle busses depart from the north side of Alkmaar Station as shown below. They will drive continuously throughout the day on all festival days. The schedule will be published before the festival starts.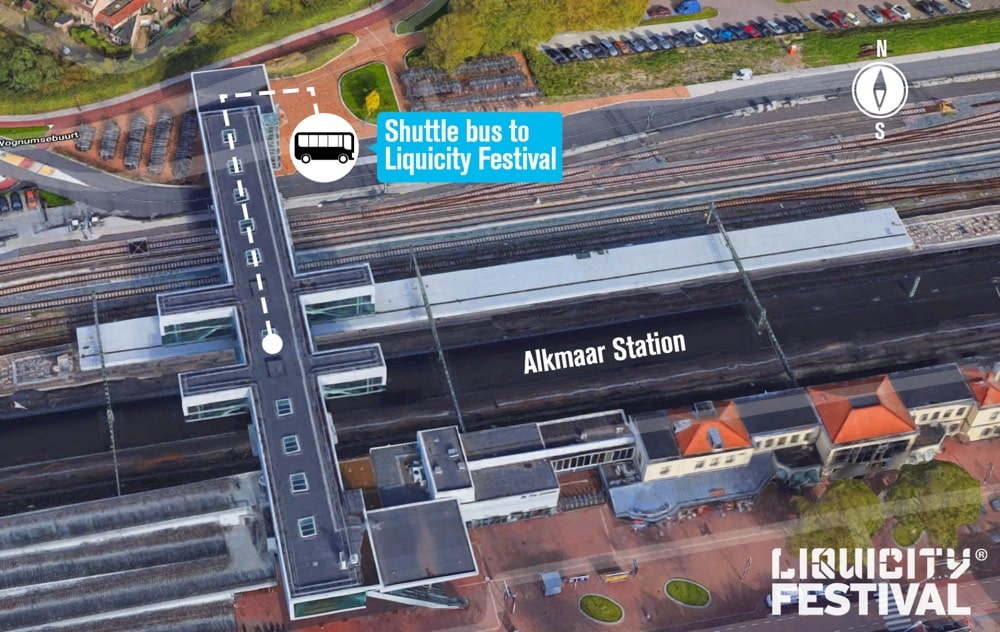 How to get from Schiphol Airport to Alkmaar Station
Take the train from Schiphol Airport to Zaandam station. Take the train from Zaandam station to Alkmaar station. (45 minutes in total)

How to get from Eindhoven Airport to Alkmaar Station
Take the bus from Eindhoven airport to Station Eindhoven. Take the train from Station Eindhoven to Alkmaar station. (120 minutes in total)

How to get from Amsterdam Central Station to Alkmaar Station
Take the train from Amsterdam central station to Alkmaar station. (35 minutes)
For all train timetables and routes to Alkmaar Station, check http://www.ns.nl/en/journeyplanner/.
Coming by car to Liquicity Festival 2024? Purchase a parking ticket (€24.99) to park your car at the festival from Friday until Monday!
If you prefer to arrive one day early, you can purchase the Thursday campsite access ticket. With this ticket, you can park your car when you arrive on Thursday (but you still need a valid parking ticket).
Address: Festivalweg 1, Oudkarspel. Follow the signs towards the parking fields.
After scanning your parking ticket, you will be able to unload your luggage and friends in front of the entrance, before the parking stewards will point you to a parking area. Parking fields will be filled on a first-come-first-serve basis.
Bike
Do you live nearby and want to come by bike? No problem, there are free bike parking spots available.
Carpool
Looking for someone to carpool with to the festival? There will once again be the option to sign up for ride-sharing through the website. This will become available through a pop-up window in the bottom left corner closer to the event date. Or take a look at the Liquicity Festival 2024 Facebook group. This is the perfect place to find a travel buddy.
Campervan
Details will follow later.
Kiss & Ride
A Kiss & Ride is located in front of the parking entrance next to P1.